Rohrer Aesthetics Phoenix-15 CO2 Laser System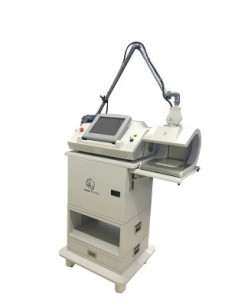 The affordable and portable Rohrer Aesthetics Phoenix 15-CO2 delivers powerful laser light and heat that helps improve skin regeneration while smoothing fine lines and wrinkles and reducing areas of hyper pigmentation.
The Phoenix-15 CO2 Laser System is a powerful, multi-purpose system that delivers a wide variety of dermatological and plastic surgery procedures. Highly portable and featuring an attractive price point, the Phoenix-15 CO2 is the ideal swift-scan system for any cosmetic practice, including those with multiple locations. Treatments with the Phoenix 15-CO2 laser system stimulate deeper cells in the skin, resulting in improved collagen regeneration and an overall improvement in skin quality. The multi-purpose laser also includes an incisional handpiece for blehpararoplasty, a popular and safe solution for lifting and removing excess skin around the upper and lower eyelids for an instant lift.
Detailed Product Description
The Rohrer Aesthetics Phoenix-15 CO2 laser system offers the following product features:
Rohrer Aesthetics Phoenix-15 CO2 Applications
Smoothing of fine lines and wrinkles
Scar reduction
Pigmention reduction
Elimination of skin tags and warts
Lifting and removal of excess skin around the eyelids
Wrinkle smoothie, scar reduction and reduction of pigmented lesions are some of the most popular cosmetic treatments today and the Phoenix-15 CO2 is one of the best ways to capitalize on that demand. UsedCosmetic.com has the lowest prices on used Rohrer Aesthetics systems, and every cosmetic machine we sell comes with a full satisfaction guarantee. We only sell quality used cosmetic equipment that has been completely reconditioned and inspected.
UsedCosmetic.com's number one goal is to provide the best prices on used cosmetic lasers along with the best service and selection. Contact us today for a free, no obligation price quote on a pre-owned Rohrer Aesthetics system or for more information about this model.