Zimmer Cryo 6 Chiller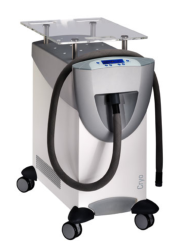 One of the main reasons that patients do not seek cosmetic laser treatments is the fear of pain and discomfort. You can solve that problem with the Cryo 6 Cold Air Device, which cools air down to -30° C. The result is a higher level of patient comfort with no interference from the Zimmer Cryo 6 system, which can be used at any time before, during or after a cosmetic laser aesthetic treatment. The Cryo 6 system will make your patients more comfortable, and that means they are more likely to return for additional treatments and tell their friends about the pleasant experience they had at your office.
UsedCosmetic.com has top quality refurbished Cryo 6 skin cooling systems for sale at a price that is as much as 60% or more off the original retail cost. That can add up to thousands of dollars in savings for your business, and there is no risk when you buy a used Cryo 6 system because of our 100% satisfaction guarantee. Contact us today for a no obligation Cryo 6 cooling system price quote.
Cryo 6 Chiller Features:
Glass keyboard with six presets
Optional articulating arm
No consumables
Easy to access air filter
Treatment tube length: 6 ft.
Power supply: 115V / 60 Hz
Dimensions: 25′ x 15′ x 27′
Weight: 132 lbs. (60 kg)
Cryo 6 Chiller Application: