Candela GentleYAG Laser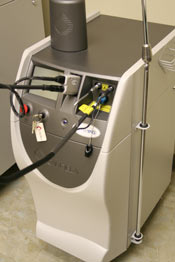 The Candela GentleYAG laser system is the fastest and most powerful machines you can buy for the treatment of leg veins, facial veins, wrinkle reduction and laser hair removal. Its patented DCD cooling system also makes it one of the safest and most patient-friendly systems you can buy.
Using Candela's exclusive cryogen DCD cooling system, this machine produces incredibly fast and effective results while at the same time maximizing patient comfort. It features a spot size of up to 18mm and 26,333 watts of power, so you can treat patients faster and more efficiently. The Candela GentleYAG is available in many configurations, including the GentleYAG HR, GentleYAG SRT and GentleYAG VR. No matter what model you want, UsedCosmetic.com has the lowest prices on Candela GentleYAG lasers.
Detailed Product Description
The Candela GentleYAG Laser has the following features:
Spot size of up to 18mm
Laser type: Nd:YAG
Wavelength: 1064 nm
Dimensions: 35″ H x 16″ W x 28″ D
Weight: 210 pounds
Electrical: 230 V 50/60 Hz, single phase, 16A
Candela GentleYAG Laser System Applications:
Laser hair removal
Non-ablative skin rejuvenation
Skin tightening
Vascular lesions
Leg veins
Facial veins
Wrinkle reduction
Because of its proven track record and versatility, the Candela GentleYAG laser system is an excellent and cost-effective investment. UsedCosmetic.com sells only top quality refurbished cosmetic machines, and we back them up with a 100% satisfaction guarantee. Every pre-owned cosmetic laser machine we sell goes through an extensive reconditioning process and is then tested and inspected to make sure it meets the original manufacturer's specifications.
To get the lowest price on a Candela GentleYAG laser system and save up to 50% off the cost of a new model, simply fill out the contact form below. We would also be happy to answer any questions about this model or help you determine which cosmetic laser system is the right one for your needs and your budget.