Candela QuadraLASE Laser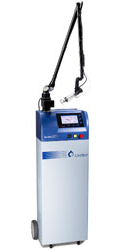 The Candela QuadraLASE is among the most cost-effective and affordable fractional C02 laser systems available today. Its QuadraSCAN technology will help you maximize patient comfort while at the same time maximizing treatment results.
If the cost of a fractional C02 laser system has been out of your reach, then the Candela QuadraLASE might be for you. This is one of the most affordable fractional lasers on the market, yet it still produces incredible results. Because it requires no disposables, it is also very cost effective to operate. It offers the option of a 300 micron QH hand piece or a 180 micron QD hand piece. It also has a very small footprint, so you should have no problem finding space for it. The Candela QuadraLASE offers an advanced articulating arm with a walking radius of 130 cm and a rotation angle of 340 degrees to give you maximum maneuverability while allowing you to treat patients faster and more efficiently. Contact UsedCosmetic.com today for the lowest price on a Candela QuadraLASE laser system.
Detailed Product Description
The Candela QuadraLASE Laser has the following features:
Laser type: CO2
30 Watts of power
635 nm aiming beam, adjustable from screen
Wavelength: 10,600 nm
Dimensions: 39.4″ H x 13.8″ W x 9.5″ D
Weight: 60 pounds
Electrical: 100 – 240V, 50 – 60 Hz, 6A
Candela QuadraLASE Laser System Applications:
Ablative skin rejuvenation
Fractional
Skin tightening
Acne treatment
UsedCosmetic.com can help you save up to 50% or more off the cost of a new cosmetic laser system. But that doesn't mean you need to give up anything when it comes to quality, reliability or performance because every pre-owned cosmetic laser we sell comes with a 100% satisfaction guarantee and has been professionally reconditioned and tested.
To get the best price on a Candela QuadraLASE laser, just fill out the contact form below. We'll give you a quick price quote with no obligation.