Candela SmoothBeam Laser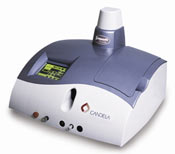 The Candela SmoothBeam laser system is a breakthrough machine that is designed specifically to prevent acne. This machine is compact, portable and easy to use, and it will allow your business to offer a new treatment that is seeing increased demand.
Acne is a problem for millions and millions of people, and the Candela SmoothBeam is one of the best ways to prevent the condition and treat the scars and wrinkles it can leave behind. By going after the root cause of acne, the sebaceous gland, the Candela SmoothBeam can prevent acne before it even starts, and it is approved by the FDA for that use. It can also help provide acne sufferers with smoother skin by reducing the appearance of scarring and wrinkles. UsedCosmetic.com offers the lowest prices on Candela SmoothBeam laser machines.
Detailed Product Description
The Candela SmoothBeam Laser has the following features:
Laser type: Diode
Repetition rate: 1 Hz
Spot size options: 4mm, 6mm
Wavelength: 1450 nm
Dimensions: 17″ H x 22″ W x 20″ D
Weight: 40 pounds
Electrical: 115/230 VAC 50/60 Hz
Candela SmoothBeam Laser System Applications:
Acne treatment
Wrinkle reduction
Skin rejuvenation
The Candela SmoothBeam is one of the most affordable and portable cosmetic laser systems you can buy, and it will also allow your business to add a new treatment option that is becoming more popular every day. Because it weighs just 40 pounds, you can easily transport it between treatment rooms or even back and forth between different office locations. Contact us today to get the best price on a Candela SmoothBeam laser system.
UsedCosmetic.com only sells top quality pre-owned cosmetic laser machines and our prices are up to 50% or more off the cost of a new model. If you are looking for the best deal on a Candela SmoothBeam laser machine, just fill out the contact form below and we'll respond with a quick price quote with no obligation.