Candela VBeam Laser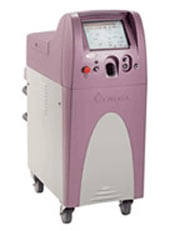 If you are looking for one of the most versatile cosmetic laser machines on the market today, then you need to consider the Candela VBeam laser system. This model can treat a wide variety of conditions, and it features Candela's exclusive DCD cooling system.
The Candela VBeam laser can handle just about any type of skin application, from skin rejuvenation to acne treatment to wrinkle reduction to facial and leg veins. The VBeam platform is available in several configurations, including the VBeam Perfecta, VBeam Platinum and VBeam Aesthetica. You can easily upgrade between configurations, so that makes it the perfect system for a cosmetic business that is looking to grow in the future but does not want to have to buy a new system in order to do so. The Perfecta model features a 10" interface screen that will help you treat patients faster and more efficiently. If you want the best price on a Candela VBeam laser system, contact us today.
Detailed Product Description
The Candela Vbeam Laser has the following features:
Lens-coupled 3 m optical fiber with handpiece
Laser type: Pulsed dye
Wavelength: 595 nm
Dimensions: 43″ H x 16″ W x 30″ D
Weight: 290 pounds
Electrical: 230 V 50/60 Hz, single phase, 18A
Candela Vbeam Laser System Applications:
Skin rejuvenation
Acne treatment
Wrinkle reduction
Leg veins
Facial veins
Vascular lesions
UsedCosmetic.com offers the best prices on refurbished cosmetic laser systems, but that doesn't mean we are not serious about quality and reliability. Every system we sell comes with a 100% satisfaction guarantee and has undergone a rigorous reconditioning process to make sure it performs just like a new model. The only difference is that we sell pre-owned cosmetic lasers for up to 50% off the cost of new systems.
If you are looking for a Candela VBeam Perfecta, Candela VBeam Platinum or Candela VBeam Aesthetica laser system, fill out the form below and we'll respond with a low price quote.