CoolTouch CoolLipo Laser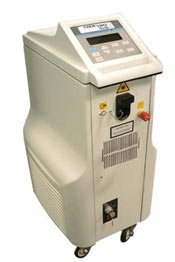 The CoolTouch CoolLipo is a specialized cosmetic laser machine that is designed to provide fast and easy fat removal in areas such as the neck, chin and other small areas of the body that are not easily treated with traditional liposuction methods. This machine requires only local anesthesia and the patient will require only minimal downtime after being treated.
The CoolTouch CoolLipo can be an attractive addition to any cosmetic treatment business because it provides a service that many conventional liposuction machines cannot do. This model is known for its strong safety record and is a much less invasive alternative for your patients as opposed to a neck lift or face lift. The CoolTouch CoolLipo can perform laser-assisted lipolysis with incredible speed and accuracy with only minimal bruising for the patient. UsedCosmetic.com offers the lowest prices on CoolTouch CoolLipo cosmetic equipment.
Detailed Product Description
The CoolTouch CoolLipo Laser has the following features:
High peak power to liquefy fat
Nd:YAG 1320 nm wavelength
Aiming beam
Dimensions: 35″ H x 16″ W x 28″ D
Weight: 160 pounds
Electrical: 230 VAC, 50/60 Hz, Single Phase or 115 VAC, 50/60 Hz, Single Phase
CoolTouch CoolLipo Laser System Applications:
The CoolTouch CoolLipo is one of the best laser-assisted liposuction machines you can buy, and UsedCosmetic.com has the best prices on CoolTouch CoolLipo machines. We also offer a complete 100% satisfaction guarantee so that you can buy with the confidence of knowing you are getting pre-owned cosmetic equipment that has been reconditioned according to our rigorous standards for quality.
If you have any questions about this model or just want the lowest price quote on a CoolTouch CoolLipo laser machine, simply fill out the form below. We will get right back to you with the best possible price on the CoolTouch CoolLipo or any other piece of cosmetic laser equipment you are interested in.