CoolTouch CT3 Laser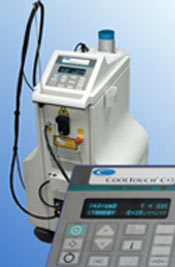 The CoolTouch CT3 Laser is not the newest cosmetic laser machine on the market, but it has proven to be one of the most effective for skin tightening, acne treatment and wrinkle reduction. It offers pain-free operation with exceptional results.
The CoolTouch CT3 was voted as the "Best Non-Ablative Laser for Wrinkle Reduction & Acne" by physicians and aestheticians, and it regularly earns high marks from patients who say this is one of the fastest and most painless ways to get quick results. It's patented CoolBreeze technology allows for pain-free non-ablative skin rejuvenation and it can actually stop acne before it starts. Acne prevention treatment is one of the fastest growing segments in the field of cosmetic procedures, and the CoolTouch CT3 is already proven to be effective for that use. UsedCosmetic.com has the lowest prices on top quality refurbished CoolTouch CT3 or CoolTouch CT3 Plus laser systems.
Detailed Product Description
The CoolTouch CT3 Laser has the following features:
Automatic laser control
Exclusive thermal feedback feature
Features painless skin tightening mode
Wavelength: Nd:YAG 1320 nm
Dimensions: 31″ H x 18″ W x 21″ D
Weight: 160 pounds
Electrical: 230 VAC, 50/60 Hz, Single Phase or 115 VAC, 50/60 Hz, Single Phase
CoolTouch CT3 Laser System Applications:
Non-ablative skin rejuvenation
Skin tightening
Acne treatment
Wrinkle reduction
You can buy a CoolTouch CT3 laser machine from a lot of different places, but at UsedCosmetic.com you get a full 100% satisfaction guarantee along with the lowest prices on quality pre-owned cosmetic lasers. All of our equipment is professionally reconditioned and tested to make sure that it meets or exceeds the original manufacturer's specifications.
If you are looking for the lowest prices on refurbished cosmetic equipment, including great deals on the CoolTouch CT3 laser system, fill out the form below and we'll get you a quick, no obligation price quote. We can also help you save money on cosmetic laser accessories, supplies and devices.