CoolTouch VARIA Laser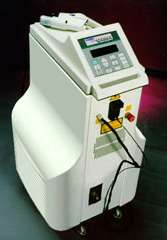 The CoolTouch VARIA is one of the highest rated cosmetic laser systems for hair removal and treatment of veins. This model features a 1064 nm long-pulsed laser and does not require any downtime for the patients after treatment.
In addition to delivering exceptional results, the CoolTouch VARIA is also extremely efficient and easy to use. Among the many features it offers are an easy to use control panel, adjustable pre-sets, aiming beam and spot size selection from 2 to 10 mm. This machine is also incredibly efficient because you can switch from spot sizes of 2 – 10 mm without the need to change hand pieces, so that makes treatments faster and more efficient. And because it operates on 115 V, it is fast and easy to move it from one treatment room to another. Contact us today if you want the lowest price on a CoolTouch VARIA laser machine or just need more information about this model.
Detailed Product Description
The CoolTouch VARIA Laser has the following features:
Exclusive Thermal Quenching post-cooling technology
300μsec – continuous pulse width
Wavelength: 1064 nm
Dimensions: 31″ H x 18″ W x 21″ D
Weight: 160 pounds
Electrical: 230 VAC, 50/60 Hz, Single Phase or 115 VAC, 50/60 Hz, Single Phase
CoolTouch VARIA Laser System Applications:
Laser hair removal
Skin tightening
Leg veins
Pigmented vascular lesions
You can buy a used cosmetic laser system from many different companies, but you need to make sure you are getting a top quality system. You can be sure of that at UsedCosmetic.com because we sell only refurbished cosmetic laser equipment that has been professionally reconditioned and tested, and we back it up with a 100% satisfaction guarantee.
We stock a huge inventory of used cosmetic laser equipment and we have the best prices on CoolTouch VARIA cosmetic therapy equipment. Contact us today for a low price quote or if you have any questions about this model.