Cutera CoolGlide Laser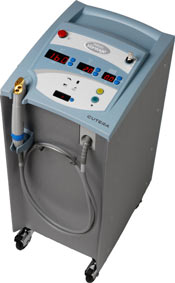 As with all the Cutera cosmetic laser systems, the CoolGlide platform offers a variety of configurations, including the CoolGlide CV, CoolGlide Excel and CoolGlide Vantage. These models can handle hair removal, vascular therapy, skin rejuvenation and more
The Cutera CoolGlide was the first cosmetic laser system approved by the FDA for permanent hair reduction and the platform has undergone some significant technological advances since then and remains one of the most popular and effective models available. It offers virtually pain free treatments and is very easy to operate, plus it is faster than many other models so it will allow you to maximize revenue and make your customers happy with quicker treatments. The Cutera CoolGlide system can used with a variety of devices, which makes it a very cost efficient machine, especially when you consider that it has a fairly low price point to start with. UsedCosmetic.com has the lowest prices on the full line of Cutera CoolGlide lasers.
Detailed Product Description
The Cutera CoolGlide Laser has the following features:
Available configurations: CoolGlide CV, CoolGlide Excel or CoolGlide Vantage
Integrated constant cooling
Long-pulse Nd:YAG laser
Dimensions: 13″ x 18″ x 32″
Weight: 135
Electrical: 115V/20A or 230V/20A
Cutera CoolGlide Laser System Applications:
Laser hair removal
Skin rejuvenation
Pigmented vascular lesions
UsedCosmetic.com offers a complete 100% satisfaction guarantee on every pre-owned cosmetic laser machine we sell, including the Cutera CoolGlide CV, CoolGlide Excel and CoolGlide Vantage. This system can help expand the menu of offerings for your cosmetic therapy business and attract more clients because of the reputation of performance, safety and comfort of the CoolGlide system. This is simply one of the most versatile, effective and affordable cosmetic laser machines you can buy.
Whether you are looking for the lowest price quote on a Cutera CoolGlide system or just want more information about this model, fill out the form below and we'll respond promptly to your request.