Cutera Solera Laser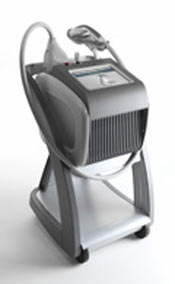 The Cutera Solera platform, which is available as the Cutera Solera Opus or Cutera Solera Titan, is one of the most effective cosmetic laser systems available for the treatment of hair removal and skin rejuvenation. It can also handle dermal heating, wrinkle reduction and vascular lesions.
The Cutera Solera is an extraordinarily versatile system that offers some of the most advanced IPL technology and a variety of options for treatment devices, including the LimeLight, ProWave, AcuTip and Titan. Even though this cosmetic laser system is extremely fast and powerful, it is also very compact and easy to move between treatment rooms. Contact us right now if you are looking for the lowest price on a Cutera Solera Opus or the best deal on a Cutera Solera Titan laser system.
Detailed Product Description
The Cutera Solera Laser has the following features:
Available configurations: Titan or Opus
Real-time calibration
Wavelength: 1,100 to 1,800 nm
Dimensions: 13.5″ x 15″ x 20″ (Opus) or 24 in × 18 in × 30 in (Titan)
Weight: 50 pounds (Opus) or 95 pounds (Titan)
Electrical: 115V/20A or 230V/20A
Cutera Solera Laser System Applications:
Laser hair removal
Dermal heating
Skin rejuvenation
Pigmented vascular lesions
UsedCosmetic.com is your best source for the lowest prices on IPL therapy equipment and cosmetic laser systems. We stock a full inventory of cosmetic equipment and have the expertise to help you find the perfect model for your budget and your needs. Just fill out the contact form below and we'll get to work to find you the best refurbished cosmetic equipment at the lowest prices.
The Cutera Solera platform is the perfect system for a wide variety of applications and it is also among the most cost effective and efficient pieces of cosmetic equipment you can buy. Contact us today for more information or a price quote on the Solera Opus or Solera Titan.