Cynosure Acclaim Laser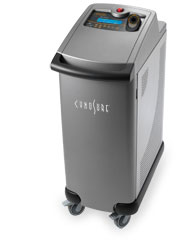 The Cynosure Acclaim laser system is one of the best machines on the market today for laser hair removal and spider vein treatment. With a high powered Nd:YAG laser, this machine is capable at treating all skin types, even tanned skin.
With spot sizes that range from 1.5 mm to 15 mm, the Cynosure Acclaim system is flexible enough to handle a variety of skin treatments. Even though this hair removal and spider vein treatment laser is remarkably fast, powerful and efficient, it has also earned high marks for safety and comfort. The Cynosure Acclaim can also be upgraded to the Cynosure Elite platform, so this is the perfect system that allows you to expand in the future as your business grows. UsedCosmetic.com has a complete inventory of quality refurbished cosmetic laser systems, and we have the lowest prices on Cynosure Acclaim machines.
Detailed Product Description
The Cynosure Acclaim Laser has the following features:
Laser type: Nd:YAG
Repetition rate: 5 Hz
Spot size options: 1.5 mm up to 15 mm
Wavelength: 1064 nm
Dimensions: 41" x 15" x 25"
Weight: 180 pounds
Electrical: 110 VAC/20A or 220 VAC/30A
Cynosure Acclaim Laser System Applications:
Laser hair removal
Facial veins
Leg veins
Cynosure has been a leading cosmetic laser manufacturer for more than two decades, so you know they make a quality product. And you can buy with confidence from UsedCosmetic.com because every used cosmetic machine we sell comes with a 100% satisfaction guarantee. We thoroughly recondition cosmetic equipment and then inspect and test it to make sure it works as good as new. The only difference between a new machine and one purchased at UsedCosmetic.com is that we can save you up to 50%.
If you are interested in more information about the Cynosure Acclaim laser system or just want the lowest price on Cynosure laser equipment, simply fill out the contact form below and we'll respond quickly and with no obligation on your part.