Cynosure Accolade Laser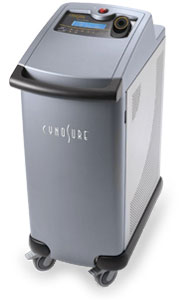 The Cynosure Accolade is one of the premier cosmetic laser systems for the removal of tattoos and pigmented lesions. It features a high-powered Q-switched Alexandrite laser that delivers fast and effective results while maximizing patient comfort.
The Cynosure Accolade is capable of treating a variety of pigmented lesions, from freckles to solar lentigines (sun spots or liver spots) and much more. And unlike many other tattoo removal laser systems, the Cynosure Accolade can remove green tattoos, in addition to black, blue and brown. When you consider that it offers a range of spot size options and an accurate red diode laser aiming beam, this laser will allow you to produce ideal results each and every time. And because it features a high repetition rate and a strong record for patient comfort and safety, this is a cosmetic laser system that patients will ask for by name and recommend to their friends and family. UsedCosmetic.com has the lowest prices on Cynosure Accolade cosmetic lasers.
Detailed Product Description
The Cynosure Accolade Laser has the following features:
Laser type: Q-switched Alexandrite laser
Maximum Repetition rate: 10 Hz
Spot size options: 2 mm up to 5 mm
Aiming Beam Type: Red Diode Laser
Wavelength: 755 nm
Dimensions: 41" x 15" x 25"
Weight: 200 pounds
Electrical: 220 VAC, 20A, 50/60 Hz, single phase
Cynosure Accolade Laser System Applications:
Tattoo removal
Pigmented vascular lesions
If you are searching for the best deals on used cosmetic laser systems, you will find it at UsedCosmetic.com. We stock a full inventory of quality refurbished cosmetic laser machines, including pre-owned Cynosure Accolade systems. We sell them for prices that are up to 50% off retail prices, and we back them up with a 100% satisfaction guarantee.
To get the lowest price quote on a reconditioned Cynosure Accolade cosmetic laser machine, simply fill out the form below. We'll respond back with a fast quote with no obligation on your part.