Cynosure Affinity QS Laser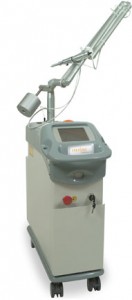 If you are in the market for a high-powered cosmetic laser system that excels at tattoo removal and the treatment of pigmented lesions, then you need to consider the Cynosure Affinity QS. With the option of two different wavelengths and more power than comparable systems, this is one of the most effective machines you can buy.
Laser tattoo removal is one of the fastest growing segments in the cosmetic procedure industry, and the Cynosure Affinity QS laser system will allow you to capitalize on that demand. This system offers the choice of two wavelengths – 1064nm for darker tattoos and lesions, or 532nm for red-colored tattoos and sun spots. You can easily switch between wavelengths and spot sizes, meaning that you can treat your patients faster and more efficiently. For more information about this system, or if you want the lowest price quote on a used Cynosure Affinity QS cosmetic laser system, simply fill out the contact form below.
Detailed Product Description
The Cynosure Affinity QS Laser has the following features:
Laser type: Nd:YAG Q-switched
Maximum Repetition rate: 1, 2, 5 or 10 Hz
Spot size options: 2 mm up to 6 mm
Aiming Beam Type: Red LED
Wavelength: 1064 or 532 nm
Dimensions: 32" x 10" x 27"
Weight: 132 pounds
Electrical: 200/220 VAC 15 A
Cynosure Affinity QS Laser System Applications:
Tattoo removal
Pigmented vascular lesions
Even though the Cynosure Affinity QS laser system is twice as powerful as many other comparable systems, that doesn't mean you have to pay double the price. In fact, you can buy refurbished cosmetic laser systems at UsedCosmetic.com for up to 50% off the price of new models. And every used cosmetic system we sell is professionally refurbished, inspected and tested, plus it comes with our 100% satisfaction guarantee.
Because we stock such a large inventory of used cosmetic equipment, we are able to sell them at some of the lowest prices anywhere. Contact us today for a no obligation price quote on the Cynosure Affinity QS laser machine.