Cynosure Affirm Laser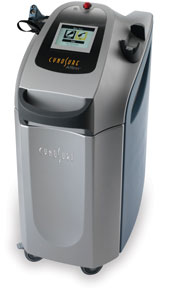 The Cynosure Affirm cosmetic laser system is billed as the "Anti-Aging Workstation" and that certainly describes this machine. It offers a complete solution for a wide range of anti-aging treatments, from wrinkle reduction to skin rejuvenation to age spot treatment.
The Cynosure Affirm is actually like three machines in one, as it bundles Cynosure's Combined Apex Pulse (CAP) technology, Xenon Pulsed Light (XPL) technology and MultiPlex technology to give you a powerful and versatile system that is capable of tackling a variety of applications. This system can emit two wavelengths in a single pulse, which helps make treatments faster and more comfortable for your patients. And with its large spot size options, you can deliver treatments that are up to 400% faster than comparable methods, which can lead to increased revenue for your business. Contact us today for more information about this model or to get the lowest price on a pre-owned Cynosure Affirm cosmetic laser system.
Detailed Product Description
The Cynosure Affirm Laser has the following features:
Laser type: Nd:YAG, Pulsed Light
Maximum Repetition rate: .33 Hz to 2.0 Hz
Spot size options: 10 mm up to 11 x 55 mm
Cold air cooling system
Wavelength: 560-950 nm, 1320 nm, 1440 nm
Dimensions: 45.2" x 18.7" x 29.3"
Weight: 210 pounds
Electrical: 200/220 VAC/30A
Cynosure Affirm Laser System Applications:
Wrinkle reduction
Skin rejuvenation
Light based skin rejuvenation
The Cynosure Affirm is a cost-effective option because of its versatility and combination of three laser technologies, plus you can save even more money with a refurbished cosmetic laser system from UsedCosmetic.com. We have the best prices on Cynosure Affirm laser systems at up to 50% off the retail price. Plus we offer a 100% satisfaction guarantee with every piece of used cosmetic equipment we sell.
If you want the lowest price quote on the Cynosure Affirm cosmetic laser machine, just fill out the form below. We'll respond back with a prompt and no-obligation quote.