Cynosure Apogee Laser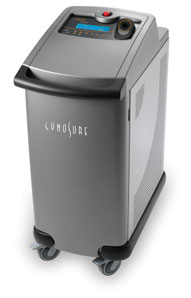 The Cynosure Apogee laser, which is a variation of the Cynosure Elite system, is a complete solution for laser hair removal and the treatment spider veins. It features a powerful and effective 755nm Alexandrite laser.
The Cynosure Apogee is one of the most effective cosmetic laser machines on the market for hair removal and it has proven to be effective on virtually all skin types. It can also be used to treat spider veins, age spots, freckles and other pigmented lesions. While many laser hair removal systems require a relatively high number of treatments to see results, the Apogee system can produce up to 80% hair reduction after just three treatments. This system is easily upgradable to the Cynosure Elite platform with a 1064nm Nd:YAG laser that will allow it to perform additional treatments. If you would like more information or the lowest price quote on a used Cynosure Apogee laser hair removal system, just fill out the contact form at the bottom of the page.
Detailed Product Description
The Cynosure Apogee Laser has the following features:
Laser type: Alexandrite laser
Maximum repetition rate: 3 Hz
Cooling system: Cold air or integrated cooling
Spot size options: 5 mm up to 15 mm
Aiming beam type: Blue/Green
Wavelength: 755 nm
Dimensions: 41" x 15" x 25"
Weight: 180 pounds
Electrical: 110 VAC/20A or 200/220 VAC/30A
Cynosure Apogee Laser System Applications:
Laser hair removal
Facial veins
Leg veins
Once you decide on the best cosmetic laser system for your business, your decision basically comes down to price and service. At UsedCosmetic.com you can get the best of both – we offer quality refurbished cosmetic equipment at prices that are up to 50% or more off retail, plus we provide excellent customer service and a 100% satisfaction guarantee. When you consider that we also stock a huge inventory of cosmetic laser equipment, that makes UsedCosmetic.com the best place to buy used cosmetic lasers.
To get the best price on a reconditioned Cynosure Apogee cosmetic laser machine, simply fill out the contact form below and we'll respond promptly with the lowest price quote with no obligation at all on your part.