Cynosure Cynergy Laser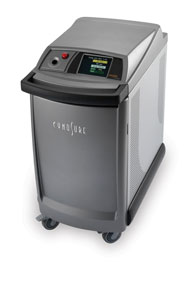 The Cynosure Cynergy is a full-featured vascular workstation that can handle a wide variety of applications including spider veins, pigmented lesions, scars, rosacea and more. It is also available in a compact and portable platform called the Cynosure Cynergy PL.
Featuring Cynosure's exclusive MultiPlex technology, the Cynergy platform offers dual wavelengths for fast and effective treatments that simply are not possible with single wavelength systems. Because this system is so much faster than other options, that means greater efficiency and revenue for your business and an overall more pleasant experience for your patients. With a high power pulse-dye laser and long-pulse Nd:YAG laser, the Cynergy is simply one of the best vascular treatment systems you can buy. At UsedUltrasound.com, you can save up to 50% off the cost of a new Cynosure Cynergy system by purchasing a quality reconditioned system. And we offer a 100% satisfaction guarantee so that you can buy with confidence.
Detailed Product Description
The Cynosure Cynergy Laser has the following features:
Laser type: Pulsed-Dye/V-Star, Nd:YAG
Maximum repetition rate: 2 Hz or 5 Hz
Cooling system: Cold air
Spot size options: 1.5 mm up to 15 mm
Aiming beam type: Amber/Red
Wavelength: 585nm or 1064nm
Dimensions: 40" x 18" x 31"
Weight: 270 pounds
Electrical: 200/220 VAC/30A
Cynosure Cynergy Laser System Applications:
Vascular pigmented lesions
Facial veins
Leg veins
UsedCosmetic.com stocks a full inventory of IPL therapy machines and cosmetic lasers, and we sell them at the lowest prices. Every system we sell is backed by a 100% satisfaction guarantee. We can offer such a strong guarantee because our refurbished cosmetic machines are professionally reconditioned, tested and inspected.
To get the lowest price quote on a Cynosure Cynergy cosmetic laser or Cynosure PL system, simply fill out the form below and we will respond quickly with a quote or answer any questions you have. We offer the best prices, best selection and best customer service on used cosmetic machines.