Cynosure Elite Laser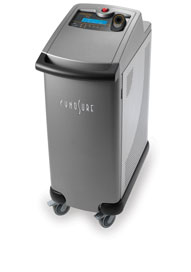 The Cynosure Elite cosmetic laser system offers a powerful combination of two lasers that provide exceptional results and comfort for laser hair removal and the treatment of leg and facial veins. It also offers a wide array of customizable features.
The Cynosure Elite system is actually two lasers in one with a 755 nm Alexandrite laser and a 1064 nm Nd:YAG laser. That gives you the power to efficiently and effectively remove hair from virtually all skin types. And because this system allows you to switch lasers during a single procedure, you can treat patients faster. That means more revenue for your business and a better overall experience for your patients. UsedCosmetic.com stocks a complete inventory of quality refurbished cosmetic laser systems, and we offer the lowest prices on Cynosure Elite laser equipment.
Detailed Product Description
The Cynosure Elite Laser has the following features:
Laser type: Alexandrite laser, Nd:YAG laser
Maximum repetition rate: 3 Hz, 5 Hz
Cooling system: Cold air
Spot size options: 1.5 mm up to 15 mm
Aiming beam type: Blue/Green
Wavelength: 755 nm, 1064 nm
Dimensions: 41" x 15" x 25"
Weight: 180 pounds
Electrical: 200/220 VAC/30A
Cynosure Elite Laser System Applications:
Laser hair removal
Facial veins
Leg veins
Pigmented vascular lesions
Because you are basically getting two lasers in one with the Cynosure Elite system, that makes it a cost effective solution for laser hair removal. And when you consider that UsedCosmetic.com sells pre-owned cosmetic laser equipment at up to 50% off retail, you can really save some serious money. In addition to the lowest prices on used cosmetic equipment, we also provide a 100% satisfaction guarantee and fast, insured shipping.
Contact us today using the form below if you are interested in the best price on a Cynosure Elite cosmetic laser machine. We would also be happy to answer any questions you have about this model or any other cosmetic laser equipment in our inventory.