Cynosure Elite MPX Laser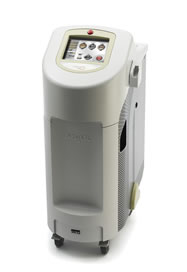 The Cynosure Elite MPX is quite simply one of the most powerful and versatile cosmetic laser machines on the market today. It features the MultiPlex dual wavelength technology that combines a 755 nm laser and a 1064 nm laser.
You can spend a lot of money on a 755 nm Alexandrite laser system and then a 1064 nm Nd:YAG laser system, or you can simply buy the Cynosure Elite MPX cosmetic laser workstation. This model combines both wavelengths in a single system, allowing you to treat patients with either wavelength or both. That allows you to treat virtually any skin type, and do it faster than you can with any other system. In addition to being one of the fastest and most effective laser hair removal systems, the Cynosure Elite MPX can also handle leg and facial veins, age spots, sun spots, freckles and more. Contact UsedCosmetic.com for the lowest price on a used Cynosure Elite MPX system.
Detailed Product Description
The Cynosure Elite MPX Laser has the following features:
Laser type: Alexandrite laser, Nd:YAG laser
Maximum repetition rate: 1.5 Hz, 10 Hz
Cooling system: Cold air
Spot size options: 1.5 mm up to 18 mm
Aiming beam type: Red
Wavelength: 755 nm, 1064 nm
Dimensions: 46" x 23" x 33.5"
Weight: 298 pounds
Electrical: 230 VAC/30A
Cynosure Elite MPX Laser System Applications:
Laser hair removal
Facial veins
Leg veins
Skin rejuvenation
Pigmented vascular lesions
The purchase of a Cynosure Elite MPX laser system is a significant investment, but at UsedCosmetic.com we can help you save money with a quality refurbished system that meets or exceeds the original manufacturer's specifications. We have the best prices on Cynosure Elite MPX systems that are up to 50% off retail, and every system we sell comes with a complete 100% satisfaction guarantee.
To get a no obligation quote with the lowest price on a Cynosure Elite MPX cosmetic laser system, simply fill out the contact form below and we'll respond promptly to your request.