Cynosure Smartlipo Laser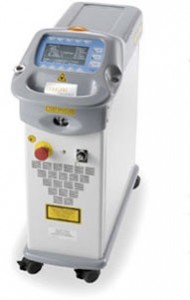 One of the fastest growing segments in the cosmetic procedure industry is laser-assisted lipolysis, and the Cynosure Smartlipo system is one of the best for that application. The Cynosure Smartlipo is available at three different wattages and can easily be upgraded to grow with your business.
Laser assisted lipolysis is rapidly growing in popularity as more and more people hear about how effective this method is for fat reduction and body contouring, and also how it can be done faster and more comfortably with a machine like the Cynosure Smartlipo system. With a 1064 nm Nd:YAG laser, the Cynosure Smartlipo machine is available with wattages of 6W, 12W or 18W, and it can easily be upgraded as your needs grow. If offers a red diode laser for exceptional aiming, and it generally produces the desired results in just one session. You can get the best price on a Cynosure Smartlipo system at UsedCosmetic.com.
Detailed Product Description
The Cynosure Smartlipo Laser has the following features:
Laser type: Nd:YAG
Maximum repetition rate: 40 Hz
Aiming beam type: Diode 3 mW @ 635 nm
Wavelength: 1064 nm
Dimensions: 28" x 9" x 25.5"
Weight: 83.6 pounds
Electrical: 110 VAC/20A
Cynosure Smartlipo Laser System Applications:
Laser-assisted lipolysis
Body contouring
Don't let the high cost of new cosmetic laser equipment keep you from having the best and most advanced equipment. At UsedCosmetic.com you can get top quality pre-owned cosmetic laser machines for 50% off the cost of retail, and you always get a 100% satisfaction guarantee. We have a full inventory of pre-owned cosmetic lasers and the best deals on Cynosure Smartlipo equipment.
Now is the time to capitalize on the demand for laser assisted lipolysis, and UsedCosmetic.com can help you get the lowest price on Cynosure Smartlipo cosmetic equipment. Just fill out the contact form below for a fast and free no-obligation price quote on the Cynosure Smartlipo or any other refurbished cosmetic equipment in our inventory.