Cynosure Smartlipo MPX Laser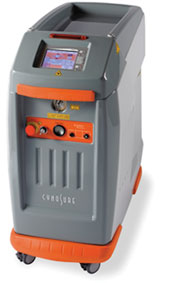 The Cynosure Smartlipo MPX laser system offers a combination of two wavelengths, 1064 nm and 1320 nm, that provides exceptional results for laser assisted lipolysis and body contouring. This system also features the exclusive SmartSense system with ThermaGuide.
A big part of the reason that laser assisted lipolysis is becoming so popular is that it is much faster and comfortable as compared to traditional liposuction methods. The Cynosure Smartlipo MPX earns high marks in both of those areas because it can quickly disrupt fat tissue and tighten skin with its dual wavelength technology and it also has Cynosure's SmartSense technology for more uniform energy delivery and greater patient safety and comfort. With up to 46W of power, this system is among the fastest and most powerful you can buy. To get the lowest price on a Cynosure Smartlipo MPX cosmetic laser system, contact us today for a free price quote.
Detailed Product Description
The Cynosure Smartlipo MPX Laser has the following features:
Laser type: Nd:YAG
Maximum repetition rate: 40 Hz
Pulse output: 12W or 20W
Aiming beam type: Red
Wavelength: 1064 nm, 1320 nm
Dimensions: 37.4" x 19.7" x 25.6"
Weight: 220 pounds
Electrical: 230 VAC/16A
Cynosure Smartlipo MPX Laser System Applications:
Laser-assisted lipolysis
Skin tightening
Body contouring
Many patients will ask for the Smartlipo system by name because of its strong reputation for results and comfort, and UsedCosmetic.com can help you get the best deal on a Cynosure Smartlipo MPX laser machine. We sell top quality refurbished cosmetic equipment at prices that are up to 50% or more off retail. All of our pre-owned cosmetic lasers are thoroughly tested and inspected to make sure they meet or exceed the original manufacturer's specifications.
To get the lowest price quote on a Cynosure Smartlipo MPX system, all you need to do is fill out the contact form below. We'll respond back with a fast quote with no obligation at all on your part.