Cynosure SmartSkin Laser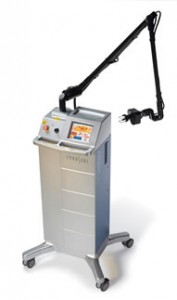 The Cynosure SmartSkin CO2 laser system stands out from the others as the only microblative laser that is completely customizable. This high-powered workstation produces fast results for skin rejuvenation and skin renewal.
With the Cynosure SmartSkin system you can combine collagen rejuvenation with skin resurfacing in a single treatment. That means your patients will be thrilled with the fast results, and the efficiency of this machine will allow you to add increased revenue to your bottom line. This system offers a wide range of customizable features so that you can get the desired results each and every time according to the specific needs of the individual patient. This system also features a 7-mirror articulated arm and easy to read color LCD display screen. To get the lowest price on a refurbished Cynosure SmartSkin cosmetic laser system, simply fill out the contact form below.
Detailed Product Description
The Cynosure SmartSkin Laser has the following features:
Laser type: CO2 fractional
LCD color touch screen
7-mirror articulated arm
Aiming beam type: Laser Diode, 3 nW @ 635-670 nm
Wavelength: 10.6 um
Dimensions: 47" x 22" x 19"
Weight: 66 pounds
Electrical: 115 V/3.7A, 50-60 Hz
Cynosure SmartSkin Laser System Applications:
Fractional laser
Skin rejuvenation
The skin rejuvenation market is expected to grow rapidly over the next few years, and you can be ready for that growth with a quality refurbished Cynosure SmartSkin laser system from UsedCosmetic.com. Our prices on SmartSkin systems are up to 50% off retail, and we back every cosmetic laser we sell with a 100% satisfaction guarantee. We also offer fast, insured shipping so that you can be up and running with a Cynosure SmartSkin laser in no time at all.
UsedCosmetic.com offers the best prices on pre-owned cosmetic laser machines, including the best deal on a Cynosure SmartSkin system. Contact us right now for a fast price quote with no obligation.