Cynosure TriActive Laser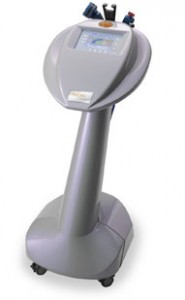 The Cynosure TriActive cellulite workstation is a versatile machine for cellulite treatment and reduction, plus it also has a therapeutic massage feature. This painless treatment system can be operated by any trained professional, even without a medical degree.
The Cynosure TriActive system can provide fast and pain-free laser cellulite treatments and it uses six diode lasers to achieve incredibly fast results. It also has an optional hand piece that can rejuvenate facial tissue, and this system can be used on virtually any skin type. The Cynosure TriActive also provides treatments that can enhance the results of other procedures, such as liposuction or laser assisted lipolysis. To get the best price on a Cynosure TriActive cosmetic laser system, just fill out the contact form at the bottom of this page.
Detailed Product Description
The Cynosure TriActive Laser has the following features:
6×1 W max power
Wavelength: 808 nm
Dimensions: 47" x 19" x 24"
Weight: 88 pounds
Electrical: 110 VAC/3A 50/60 Hz
Cynosure TriActive Laser System Applications:
Skin tightening
Skin rejuvenation
Body contouring
The Cynosure TriActive can be a cost-effective addition to your existing cosmetic laser equipment, and it can be even more cost-effective if you buy your cosmetic laser equipment at UsedCosmetic.com. Our prices on used Cynosure TriActive equipment are up to 50% off the cost of retail, and you can buy with confidence because of our satisfaction guarantee. All of our refurbished cosmetic equipment is professionally reconditioned and then tested to make sure it performs just like a new model. We also provide fast, insured shipping and a huge inventory of used cosmetic equipment.
If you are looking for the lowest price on a Cynosure TriActive system, all you need to do is fill out the contact form below for a fast price quote with no obligation. And if you have any questions or just need more information about this model, we'd be happy to help.