Laserscope Gemini Laser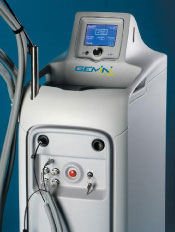 With the option of switching between two different wavelengths, the Laserscope Gemini laser is like having two systems in one. This model effectively and painlessly removes hair, reduces wrinkles and can be used to treat acne.
Non-invasive cosmetic laser systems have helped expand the cosmetic laser business as more and more people seek painless treatments for hair removal and wrinkle reduction. The Laserscope Gemini laser is an ideal model to service this fast-growing segment and it is more affordable than many comparable systems. Because you can switch between 532 nm and 1064 nm with this system, you can treat patients faster and more efficiently. You can actually cut the treatment time in half in many cases, and that means your patients will have a more enjoyable experience and also that you can treat more patients each day. The Gemini system has been cleared by the FDA for more than 20 different cosmetic applications. If you are interested in a quality refurbished cosmetic laser system like the Laserscope Gemini laser, just contact us today for a low price quote.
Detailed Product Description
The Laserscope Gemini Laser has the following features:
Laser type: KTP and Long-Pulsed Nd:YAG
Integrated cooling system
Spot size options: 1 mm up to 10 mm
Wavelength: 532 nm and 1064 nm
Electrical: 110 V
Laserscope Gemini Laser System Applications:
Acne treatment
Facial veins
Leg veins
Laser hair removal
Wrinkle reduction
Many cosmetic businesses have two laser systems to handle all the applications that the Laserscope Gemini laser can tackle. Not only can you save money on the Laserscope Gemini laser at UsedCosmetic.com, but you are also saving money because this cost-effective model can perform virtually every non-invasive cosmetic laser procedure. As with every piece of cosmetic laser equipment we sell, this model comes with a 100% satisfaction guarantee.
UsedCosmetic.com stocks a complete inventory of cosmetic lasers and IPL therapy equipment. To get the best price on a Laserscope Gemini laser system, simply fill out the contact form below.