Laserscope KTP/532 YAG Laser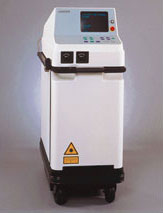 The Laserscope KTP/532 YAG laser is an affordable option that can be used for a variety of applications, including acne treatment, leg veins, facial veins and skin lesions. This system is easy to set up and easy to operate.
The Laserscope KTP/532 YAG laser is the ideal system for those looking to minimize their financial investment without sacrificing performance or reliability. This system has proven to be effective for a wide range of cosmetic applications, and it offers several easy to use features that will help an operator treat patients faster and more efficiently. There are several different versions of this laser, and UsedCosmetic.com can help you find the right one for your business. If you need more information or are looking for the lowest price quote on a Laserscope KTP laser system, just fill out the contact form below and we'll respond promptly to your request. There is no obligation at all to get a price quote.
Detailed Product Description
The Laserscope KTP/532 YAG Laser Laser has the following features:
Laser type: KTP / YAG
Spot size options: 1 mm up to 5 mm
Wavelength: 532 nm
Electrical: 110 V
Laserscope KTP/532 YAG Laser Laser System Applications:
Facial veins
Leg veins
Acne treatment
Vascular lesions
If you want to save up to 50% or more on cosmetic laser machines, then UsedCosmetic.com is here to help. We sell quality reconditioned cosmetic laser equipment that is often half the price of a new model. All the equipment we sell comes with a 100% guarantee, so you can buy with confidence of knowing that you are getting a professionally serviced system that will work just like a new machine.
Contact us today using the form below to get a low price quote on a Laserscope KTP/532 YAG laser system. We stock a complete inventory of cosmetic laser systems so we are sure to have the right model for your needs and your budget.