Laserscope PVP Green Light Laser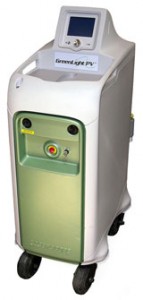 The Laserscope GreenLight PV laser is the premier system for the treatment of BPH (benign prostatic hyperplasia), or an enlarged prostate. This model is also known as the Laserscope GreenLight PVP laser system.
Prostate health is one of the most important and in-demand segments of medicine, and the Laserscope PVP GreenLight laser gives you a cutting-edge treatment system that will set you apart from others and bring more patients to your business. The effectiveness of the Green Light laser therapy system has been clinically proven and is popular with physicians and patients alike because of its low rate of side effects and the fact that is does not increase the risk of TURP or TUR syndrome. Unlike many other treatment methods that are being used today, the Laserscope GreenLight can provide results using outpatient procedures with almost no downtime. To get the lowest price on a Laserscope PVP GreenLight laser system, contact UsedCosmetic.com for a fast and free quote.
Detailed Product Description
The Laserscope PVP Green Light Laser has the following features:
Laser type: Frequency doubled, solid state
Maximum power: 280W Star Pulse
Aiming Beam Type: Red Diode Laser
Wavelength:532 nm
Dimensions: 18" x 25.75" x 48.5"
Weight: 230 pounds
Electrical: 200/208/220/230/240 VAC @ 50/60 Hz, 50A single phase
Laserscope PVP Green Light Laser System Applications:
There are plenty of places where you can buy refurbished BPH laser machines, but few offer the advantages that UsedCosmetic.com does. We provide fast shipping and a 100% satisfaction guarantee. Plus we only sell quality pre-owned laser equipment that has been professionally reconditioned, tested and inspected.
UsedCosmetic.com stocks a complete inventory of laser equipment, including the full line of GreenLight laser systems. Contact us right now for the best price on a Laserscope PV Green Light laser. We are also happy to answer any questions about this model or any other cosmetic or medical laser system.