Lumenis AcuPulse CO2 Laser with SurgiTouch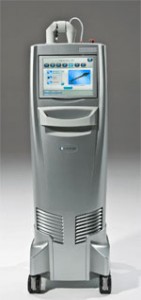 The Lumenis AcuPulse CO2 with SurgiTouch is a revolutionary surgical laser system that features automated and robotic capabilities that far exceed what is possible with manual laser treatments.
The Lumenis AcuPulse CO2 features the incredible SurgiTouch automation system that offers automatic laser delivery device suggestion, treatment parameter recommendation and robotically assisted laser treatments. With robotic treatments, you can get consistent results that are repeatable and accurate. Even the best manual laser system operators are susceptible to minor variations or hand tremors, but the AcuPulse eliminates those problems. You simply cannot match the accuracy or safety of this system with a manual laser. The Lumenis AcuPulse CO2 is suitable for a variety of surgical procedures, including aesthetics, neurosurgery, gynecology and general surgery. Contact us today for more information about this model or to get a low price quote.
Detailed Product Description
The Lumenis AcuPulse CO2 Laser with SurgiTouch has the following features:
Laser type: CO2, sealed-off, DC excited
Wavelength: 10.6 micron, infrared
Aiming Beam: 5mW red diode laser
Self-contained, closed cycle cooling system
Operation mode: Continuous Wave (CW), Pulser, SuperPulse
Weight: 108 pounds
Dimensions: 14.6" x 15.8" x 47"
Electrical: 100 – 240 VAC, 10A (max), 50/60 Hz
Lumenis AcuPulse CO2 Laser with SurgiTouch System Applications:
UsedCosmetic.com not only is the best place to buy pre-owned cosmetic laser equipment, but we also stock a complete inventory of used surgical lasers, like the Lumenis AcuPulse CO2 system. We can help you save up to 60% off the price of a new model, and we guarantee your satisfaction. We have strict quality standards and only sell refurbished equipment that meets or exceeds the original manufacturer's factory specifications.
If you want a fast quote on a Lumenis AcuPulse Surgical Laser with no obligation, just fill out the contact form below. We'll respond back with the best price on this system.