Lumenis AcuPulse Fractional CO2 Laser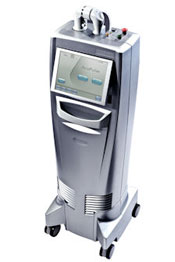 The Lumenis AcuPulse laser is one of the top fractional lasers on the market today and it offers features that none of its competitors have. Its exclusive SuperPulse technology delivers fast results with greater patient comfort.
Just about every fractional laser offers basic continuous wave (CW) capability, but the Lumenis AcuPulse Fractional CO2 takes it a step further with SuperPulse technology that allows for high peak power, short pulse bursts. That allows this system to deliver up to six times the power of many other fractional lasers, yet the AcuPulse only causes minimal discomfort and downtime for patients. It features a color touchscreen interface that is easy to use and its carbon fiber arm rotates a full 360 degrees. Lumenis has long been a leader in fractional lasers, and they have proven why with the AcuPulse system. Contact us right now to request more information about this model or to get a low price quote on the Lumenis AcuPulse Fractional CO2 system.
Detailed Product Description
The AcuPulse Fractional C02 Laser has the following features:
Laser type: CO2 sealed-off, DC excited
Wavelength: 10,600 nm
Carbon fiber spring-balanced arm with 360 degree rotation
Red diode laser aiming beam
Self-contained, closed cycle cooling system
Dimensions: 14.6" x 15.8" x 47"
Weight: 108 pounds
Electrical: 100-240 VAC, 10 A (Max), 50/60 Hz
AcuPulse Fractional C02 System Applications:
Fractional laser
Skin rejuvenation
We are proud to sell the best used cosmetic lasers, and that's why we offer a full satisfaction guarantee. Our pre-owned cosmetic equipment undergoes a rigorous 15-point reconditioning process and we only sell cosmetic lasers that meet our high standards for quality.
UsedCosmetic.com offers the lowest prices on fractional lasers, including the Lumenis AcuPulse system. To get our best price quote, just fill out the form below. There is no obligation to request pricing details or to ask for more information about this model.