Fraxel SR1500 Laser System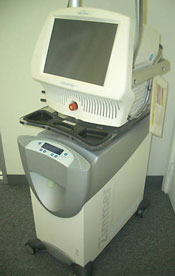 The Fraxel SR1500 is a versatile cosmetic system that can be used for skin resurfacing on all body areas and skin types with only minimal patient downtime.
The Fraxel SR1500 offers deeper penetration than many comparable systems with up to 1.2 mm at energies of up to 40 mJ. This system also provides exceptional patient comfort and many operator-friendly features to help your office move more efficiently. It features the ability to set the exact lesion depth and a specific percent coverage so that you can treat patients with incredible accuracy. And because the Fraxel SR1500 will only operate if the handpiece and safety tip are in direct contact with the skin, this is also one of the safest cosmetic systems you can buy. If the Fraxel SR1500 is out of your price range, you might also consider the Fraxel SR750, which offers many of the same features at a lower price.
Detailed Product Description
The Fraxel SR1500 has the following features:
Intelligent Optical Tracking System (IOTS)
15″ touch-screen display panel
Lightweight ergonomic handpiece
Up to 30 Watts of power
Fraxel SR1500 System Applications:
Skin resurfacing
Skin rejuvenation
Wrinkle reduction
Fractional laser
At UsedCosmetic.com, we offer the lowest prices on reliable pre-owned cosmetic equipment along with a full satisfaction guarantee. When you buy a refurbished Fraxel SR1500 cosmetic laser system from us, you can rest easy with the knowledge that it has passed our rigorous standards for quality. We only sell reconditioned cosmetic equipment that has been professionally serviced, tested and inspected. Plus we carry a complete inventory of Fraxel machines along with cosmetic equipment from many other manufacturers.
To get the best price on a Fraxel SR1500 system, just fill out the short form below and we'll respond promptly to your request. We can provide a low price quote, answer any questions about this model or offer assistance if you are comparing cosmetic lasers.