Fraxel Re:store Laser System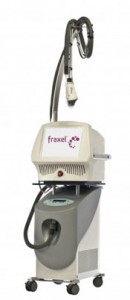 The Fraxel Re:store is a powerful dual wavelength cosmetic laser system for skin resurfacing that can treat the entire body with remarkable patient comfort.
One of the first questions that virtually every potential cosmetic patient asks is "How much will this hurt?" While some skin resurfacing and skin rejuvenation procedures can be quite uncomfortable and require significant downtime, that's not the case with the Fraxel Re:store system. This dual wavelength model is known for producing exceptional results while maximizing patient comfort. It can also be used to treat acne scars, melasma, soft tissue coagulation, actinic keratosis and more. Like all the Fraxel models, it offers the company's Optical Tracking system that helps operators give a uniform treatment in as little as 20 minutes. This system's touch-screen interface also makes it exceptionally easy and intuitive to use. UsedCosmetic.com has the best prices on used Fraxel Restore systems.
Detailed Product Description
The Fraxel Re:store has the following features:
Laser type: Fractional non-ablative fiber laser
Wavelength: 1550 nm, 1927 nm
Pulse repetition rate: Up to 3,000 MTZs per second
15″ touch-screen display panel
Dual fiber laser technology
Weight: 60 lbs.
Dimensions: 19″ wide x 19″ high x 18″ deep
Electrical: 100-240 VAC, 50-60 Hz
Fraxel Re:store System Applications:
Skin resurfacing
Skin rejuvenation
Wrinkle reduction
Fractional laser
Acne treatment
At UsedCosmetic.com we want you as a customer, now and in the future. That's why we always provide a full satisfaction guarantee in addition to the lowest prices on used cosmetic lasers and cosmetic equipment. Every piece of equipment we sell is professionally refurbished and tested to make sure it performs just like a new model would.
To get the lowest price on a quality pre-owned Fraxel Re:store cosmetic laser system, just fill out the form below. There is no obligation at all to request pricing details about this model. We would also be happy to answer any questions or help you compare cosmetic lasers and find the right model for your needs.