Syneron Galaxy Laser System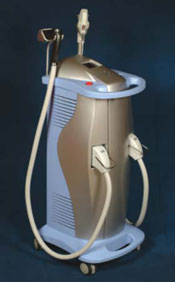 The Syneron Galaxy is a multi-purpose cosmetic system that can handle a variety of aesthetic skin treatments with a high level of patient comfort and satisfaction.
Unlike some systems, which have limitations to what hair colors and skin types they can treat, the Syneron Galaxy is effective on virtually any hair color or skin type, even tanned skin. Besides laser hair removal, the Galaxy can also be used for acne treatments, skin rejuvenation, wrinkle reduction and much more. There are five different application heads available for this model, and it is fast and easy to switch between them with no technician needed. This is one of the most cost-effective cosmetic machines you can buy. For more information or to get a low price quote on a Syneron Galaxy system, contact us today.
Detailed Product Description
The Syneron Galaxy has the following features:
Patented elōs technology
RF Energy: 5 – 25J/cm3
Wavelength: 400 – 980 nm depending on attachment
Pulse repetition rate: 0.7 Hz
Weight: 77lbs. (35kg)
Dimensions: H 39.4″ x W 18″ x D 14.2″ (100 x 46 x 36cm)
Electrical: Standard 110 VAC
Syneron Galaxy System Applications:
Laser hair removal
Skin rejuvenation
Acne treatment
Vascular lesions
Leg veins
Wrinkle reduction
UsedCosmetic.com offers a combination of the lowest cosmetic equipment prices with the best service and biggest selection. Every used cosmetic laser we sell is backed by a full satisfaction guarantee and the security of knowing that is has been refurbished and inspected by a professional technician. At UsedCosmetic.com you don't have to pay a high price for a high quality cosmetic machine.
We know that price is probably one of the most important factors in your buying decision, so we are happy to provide a no obligation price quote on a Syneron Galaxy or any other cosmetic machine we sell. Just fill out the contact form below and we'll get back to you promptly.