Rohrer Aesthetics Spectrum Laser/IPL System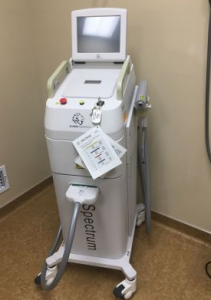 The Rohrer Aesthetics Spectrum Laser/IPL is a powerful and incredibly portable laser and IPL system in one. Offering 4 different lasers and an IPL in one convenient platform, the system can be used for a variety of cosmetic procedures, including skin resurfacing, tattoo removal, removal of pigmented lesions, vascular reduction, hair removal and more.
Featuring proven technology from Rohrer Aesthetics, the Spectrum offers incredible functionality in an easy to use 5-in-1 platform. The Spectrum system separates easily into two pieces, making it easy to share among different operators and move to different offices. And with no consumables or disposables, the Spectrum also delivers incredible value and low maintenance costs. The powerful Spectrum system allows users to deliver a variety of aesthetic treatments without having to invest in multiple systems.
Detailed Product Description
The Rohrer Aesthetics Spectrum Laser/IPL laser system offers the following product features:
Intense Pulsed Light (IPL)

Includes 4 filters for non-ablative procedures, including hair removal, acne reduction and removal of vascular and pigmented lesions.
Long Pulsed YAG

Heats and damages blood vessels, allowing them to collapse
Also removes other vascular lesions, including cherry angioma

810-DIODE laser

Features a large spot size, built in contact cooling and a hertz rate of up to 10 pulses per second for effective hair removal

Erbium YAG laser

Safely removes surface-pigmentation and mild to moderate fine lines and wrinkles on the face, hands, neck and chest
Delivers effective treatment with minimal downtime

Q-Switched YAG/KTP

The laser of choice in tattoo removal for over 20 years
Dual wavelengths (1064nm/532nm) for removal of a wide variety of tattoo pigments
Rohrer Aesthetics Spectrum Laser/IPL System Applications
Skin resurfacing
Tattoo removal
Vascular reduction
Hair removal
Acne treatment
Removal of pigmented lesions
Skin resurfacing, tattoo removal and vascular reduction are some of the most popular cosmetic treatments today and the Spectrum Laser/IPL System is one of the best ways to capitalize on that demand. UsedCosmetic.com has the lowest prices on used Rohrer Aesthetics systems, and every cosmetic machine we sell comes with a full satisfaction guarantee. We only sell quality used cosmetic equipment that has been completely reconditioned and inspected.
UsedCosmetic.com's number one goal is to provide the best prices on used cosmetic lasers along with the best service and selection. Contact us today for a free, no obligation price quote on a pre-owned Rohrer Aesthetics system or for more information about this model.