Palomar StarLux 300 Laser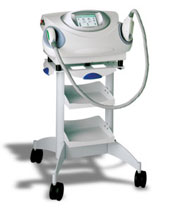 The Palomar StarLux 300 is an affordable cosmetic laser system that is comparable to the Palomar StarLux 500 but is available at a lower price point.
The Palomar StarLux platform is widely acclaimed for its versatility and performance, and with a wide range of available handpieces it can perform just about any aesthetic application with its combination of laser and IPL light. This system is more affordable than the StarLux 500, but it can still offers many of the same advanced technologies. And because it has so many optional attachments, this system can easily expand to meet your needs as they change in the future. UsedCosmetic.com has the lowest prices on Palomar lasers and we can get you the best price on a Palomar StarLux 300 machine.
Detailed Product Description
The Palomar StarLux 300 Laser has the following features:
Laser type: Varies depending on handpiece used
Wavelength: 500 up to 1200 nm
Up to 2 Hz pulse rate
Weight: 63 pounds
Electrical: 100-240 V, 50/60 Hz
Dimensions: 23.5" (60 cm) L x 11.9" (30 cm) H x 17.8" (45 cm) D
Palomar StarLux 300 System Applications:
Wrinkle reduction
Laser hair removal
Skin tightening
Acne treatment
Skin rejuvenation
Leg veins
Tattoo removal
UsedCosmetic.com can help you save thousands of dollars on pre-owned cosmetic laser systems. Our prices are up to 60% less than retail and every used cosmetic machine we sell is professionally reconditioned and backed by our complete satisfaction guarantee. We also offer fast, insured shipping, and we can save you even more money with used cosmetic laser handpieces.
To get the best price on a Palomar StarLux 300 system, all you need to do is fill out the contact form below. We'll respond with a fast and free price quote with no obligation at all on your part. We want to make your cosmetic laser buying experience as pleasant and easy as possible, so we are also happy to answer any questions about this system.