Palomar SINON Laser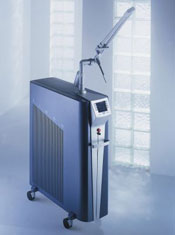 The Palomar SINON is a fast and effective system for tattoo removal and the treatment of pigmented lesions. It features a Ruby laser that can remove nearly all colors of tattoos.
With its Q-switched Ruby laser, the Palomar SINON is one of the most effective systems you can buy for tattoo removal. This system can also be used to treat conditions like Cafe-au-lait-spots, Benign Lentigo, and Nevus of Ota. The Ruby laser is especially effective at treating dark tattoos, including green tattoos, which many other systems can't do. While some other tattoo removal lasers require a half-dozen or more treatments to see results, the SINON system can often produce visible results in just a few treatments. To get more information about this model or to get the lowest price quote on a Palomar SINON system, contact UsedCosmetic.com today.
Detailed Product Description
The Palomar SINON Laser has the following features:
Laser type: Q-switched Ruby laser
Wavelength: 694 nm
Beam diameter: 3,4,5,6 mm
Energy density of up to 14 J/cm²
Repetition rate: 0.5 to 2 Hz
Dimensions: 84 x 35 x 102 cm
Electrical: 230 V, 16 A, 50/60 Hz
Palomar SINON System Applications:
Tattoo removal
Pigmented lesions
Tattoo removal is one of the fastest growing segments in the cosmetic procedure industry, and the Palomar SINON is one of the best ways to capitalize on that demand. UsedCosmetic.com has the lowest prices on used Palomar SINON lasers, and every cosmetic machine we sell comes with a full satisfaction guarantee. We only sell quality used cosmetic equipment that has been completely reconditioned and inspected.
UsedCosmetic.com's number one goal is to provide the best prices on used cosmetic lasers along with the best service and selection. Contact us right now for a free price quote on a pre-owned Palomar SINON system or to request more information about this model. There is never any obligation on your part to request pricing details.