Syneron eLaser Laser System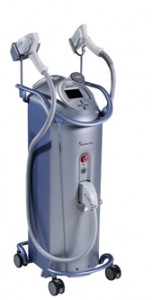 The Syneron eLaser system is extraordinarily fast and effective for hair removal and it can also handle wrinkle reduction, skin rejuvenation and many other aesthetic procedures.
Like all the aesthetic lasers manufactured by Syneron, the eLaser model features the company's elōs technology, which provides the benefits of bi-polar radio frequency and optical energy. That allows the eLaser system to be effective on even minimally pigmented hair colors and on virtually all skin colors. This is also one of the fastest aesthetic treatment lasers you can buy, and it can often produce the desired results in less treatment than comparable systems. Syneron has a reputation for producing machines that are easy to use, despite their advanced technology. The eLaser is also easy to expand as your needs change and you can add applicators at any time. Another benefit of this system is that is uses far less energy than traditional lasers or IPL machines. To get the lowest price on a Syneron eLaser system, contact UsedCosmetic.com right now.
Detailed Product Description
The Syneron eLaser Laser has the following features:
Exclusive elōs technology
Wavelength: 810 nm to 900 nm depending on handpiece
Repetition rate: Up to 2 Hz
Available application heads: DSL, WRA, LV, LVA
Weight: 66 pounds
Dimensions: 14.2" x 15" x 38.2"
Electrical: Standard 110 VAC (230 VAC)
Syneron eLaser System Applications:
Laser hair removal
Pigmented lesions
Leg veins
Facial veins
Wrinkle reduction
Fractional laser
Skin rejuvenation
At UsedCosmetic.com, we want to help you save money on a quality used cosmetic laser system. That's why we only sell thoroughly reconditioned systems that have been inspected from top to bottom. We always offer a 100% satisfaction guarantee, and we have the expertise to help you make the right buying decision for your business. We stock a complete inventory of pre-owned cosmetic lasers at the lowest prices online.
If you are interested in this model, just fill out the contact form below and we'll respond back with the best price quote on a Syneron eLaser system. Even if you are just comparing prices, we would be happy to provide a no obligation quote or answer any questions you have about this model.