Palomar MediLux IPL System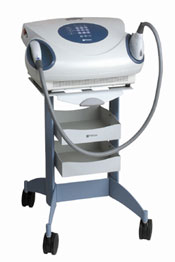 The Palomar MediLux is a fast and affordable system for laser hair removal, acne treatment and pigmented and vascular lesions that uses intense pulsed light for effective results.
The Palomar MediLux uses IPL technology and a variety of handpieces to treat a wide range of conditions. The MediLux is compatible with a long list of handpieces, including the LuxR, LuxRs, LuxY, LuxG, LuxB and LuxV. The MediLux line of handpieces is widely known as some of the longest lasting in the industry and most have a lifespan of well over 100,000 pulses. This MediLux system is also exceptionally fast and can perform most treatments in less than 30 minutes. To get more information about this model or to get a low price quote on a quality used Palomar MediLux system, just fill out the contact form at the bottom of this page.
Detailed Product Description
The Palomar MediLux Laser has the following features:
Light source: IPL Flashlamp
Wavelength: 400 nm to 1400 nm
Pulsewidth: 10, 20, 40, 60, 100 ms (selectable)
Repetition rate: 0.5 to 2 Hz
Up to 7.4 cm2/sec (Coverage Rate), 1Hz (Pulse Rate)
Dimensions: 23.5" x 11.9" x 17.8"
Electrical: 100-240 V, 50/60 Hz
Palomar MediLux System Applications:
Acne treatment
Laser hair removal
Pigmented lesions
Leg veins
Facial veins
UsedCosmetic.com delivers the lowest prices on IPL machines and cosmetic lasers, and we stock a full inventory of Palomar systems. We have strict quality standards and only sell the best used cosmetic equipment available. Because all of our machines are professionally reconditioned and inspected, we are able to offer a full satisfaction guarantee.
If you are looking for the best price on a Palomar MediLux system, just fill out the contact form below and we'll respond with a fast and free price quote. There is no obligation to get pricing information, and we are happy to answer any questions to help you compare IPL machines and find the best model for your needs.