Syneron eLight Laser System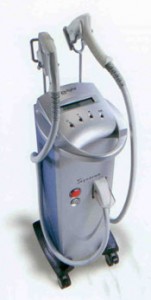 The Syneron eLight is a versatile and powerful aesthetic system designed specifically for facial treatments, including acne, skin rejuvenation, hair removal and skin tightening.
There are plenty of aesthetic systems on the market that are versatile enough to treat multiple areas of the body, but sometimes it makes sense to have a system to specialize on a specific area. The Syneron eLight is the perfect system for a wide variety of facial treatments, and it can perform them with zero downtime and virtually no patient discomfort. One of the key features of this system is the FotoFacialRF procedure, which produces exceptional skin rejuvenation results. The Syneron eLight is different than most other comparable systems in that it combines radio frequency and optical light to achieve results that standard IPL machines cannot. No matter what kind of aesthetic facial treatments you offer at your clinic, you can be sure that the Syneron eLight can handle it. Contact UsedCosmetic.com for a low price quote on this system.
Detailed Product Description
The Syneron eLight has the following features:
Patented elōs technology
Easy to upgrade
Wavelength: 400 – 2000 nm depending on attachments
Available application heads: ST, SR, SRA, AC, DS
Weight: 55 pounds (25 kg)
Dimensions: 35.5" x 15" x 15" (90 x 38 x 38 cm)
Electrical: Standard 110 VAC (230 VAC)
Syneron eLight System Applications:
Skin tightening
Skin rejuvenation
Wrinkle reduction
Laser hair removal
Acne treatment
In addition to offering the lowest prices on refurbished cosmetic lasers and cosmetic equipment, UsedCosmetic.com has one of the best satisfaction guarantees in the business. We are able to offer that because we only sell reliable machines that have been thoroughly reconditioned and inspected by a professional technician.
If you are looking to save money on a Syneron eLight cosmetic system, just fill out the contact form below. We'll respond back with the best deal on a quality pre-owned Syneron eLight system. We would also be happy to answer any questions you have about this model or any other used cosmetic system we sell.