Syneron Comet Laser System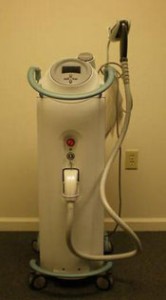 The Syneron Comet is a safe and effective system for hair removal and it can handle virtually any hair color or skin type.
There are plenty of laser hair removal machines on the market, but few can match the Syneron Comet when it comes to hair color and skin type capability. This system can remove virtually all colors of hair, including white, blond, red, gray, brown and black, plus it can be used on any skin type or color. And with its effective skin cooling system your patients will barely feel a thing. Like most of the Syneron models, this features the exclusive elōs technology that combines radio frequency and a diode laser to deliver results that are superior to a laser or IPL alone. You can find newer laser hair removal systems compared to the Syneron Comet, but you will have a hard time matching the value and performance of this system. Contact us right now for a low price quote on a quality pre-owned Syneron Comet laser machine.
Detailed Product Description
The Syneron Comet has the following features:
Patented elōs technology
Easy to upgrade
Pulse repetition: up to 2Hz
RF energy: up to 50 J/cm2
Weight: 66 lbs (30kg)
Dimensions: 38.2″ x 14.2 " x 15″ (97 x 36 x 38 cm)
Syneron Comet System Applications:
The Syneron Comet is one of the more affordable cosmetic systems you can buy, and we make it even more affordable at UsedCosmetic.com. We stock a full inventory of quality pre-owned cosmetic lasers, and we offer the best prices on Syneron equipment. We can provide the best deal on a quality refurbished Syneron Comet system.
All it takes is one email to UsedCosmetic.com and we can provide the lowest price quote on a Syneron Comet machine. Just fill out the contact form below and we'll respond quickly with a free price quote and no obligation on your part.