Syneron LipoLite Laser System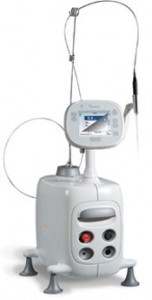 The Syneron LipoLite is a laser-assisted lipolysis machine that features an effective 1064 nm Nd:YAG laser for exceptional results with minimal side effects.
More than 500,000 liposuction procedures are performed in the United States every year, but increasingly more and more people are instead opting for laser-assisted lipolysis. With a machine like the Syneron LipoLite, patients can see liposuction-like results without significant discomfort or downtime. And for cosmetic clinics, the price of a Syneron LipoLite allows many more patients to be able to afford the procedure. Another benefit of the Syneron LipoLite is that it weighs just 44 pounds and only takes up a small amount of floor space, so it will be easy to find room for it. The Syneron VelaShape II is the perfect complement to this system and can be used to firm up tissue and remove cellulite after a treatment with the LipoLite. To get more information about either model and to request a low price quote on Syneron equipment, contact UsedCosmetic.com today.
Detailed Product Description
The Syneron LipoLite Laser has the following features:
Laser type: Nd:YAG
Wavelength: 1064 nm
Pulse duration: 100 – 800 μsec
Pulse rate: Up to 50 Hz
635 nm red diode aiming laser
Weight: 44 pounds (20 kg)
Dimensions: 12 x 19 x 30″, 31 x 49 x 76cm
Syneron LipoLite System Applications:
At UsedCosmetic.com, we want to help you save money on a used Syneron LipoLite system. We also want you to have a cosmetic machine that is going to last for many years, so in addition to the best prices on cosmetic equipment we also maintain the strictest quality standards for the systems we sell. Every machine we sell is professionally reconditioned and inspected, plus it is backed by our satisfaction guarantee.
If you are interested in the best price on pre-owned Syneron LipoLite laser system, just fill out the contact form below. We'll respond back with a low price quote and there is never any obligation on your part.