Syneron VelaSmooth System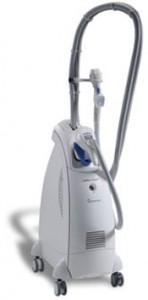 The Syneron VelaSmooth system uses a combination of technologies to achieve exceptional results for cellulite reduction and skin tightening with virtually no side effects.
Studies have shown that up to 80% of women over the age of 20 have cellulite, and the Syneron VelaSmooth provides one of the most effective methods to remove and reduce that cellulite. This system uses a combination of radio frequency (RF), infrared light, negative pressure and tissue manipulation to quickly and effectively reduce cellulite and achieve firmer, smoother skin. It can be used on the thighs, buttocks, upper arms, neck, abdomen and more. This is the first non-surgical system cleared by the FDA for cellulite treatment. This system uses the exclusive VelaSmooth Contour Applicator that can be used in tandem with the standard VelaSmooth Body Applicator to treat both small and large sections of the body. To get the best deal on a Syneron VelaSmooth machine, contact us today.
Detailed Product Description
The Syneron VelaSmooth has the following features:
Infrared power: Up to 20W
RF power: Up to 20W
Wavelength: 700 – 2000 nm
Weight: 60 pounds (27 kg)
Dimensions: 31" x 20" x 14" (80 x 50 x 35 cm)
Electrical: Standard 110 VAC (230 VAC)
Syneron VelaSmooth System Applications:
Skin tightening
Skin rejuvenation
UsedCosmetic.com is the number one place online to save money on quality used cosmetic equipment. We stock a huge inventory of cosmetic lasers, IPL machines and other cosmetic equipment, and we always offer a full satisfaction guarantee with every system we sell. Compare our prices to other companies and you will find that we are hard to beat.
Whether you are looking to buy right now or just doing some comparison shopping, we are happy to provide a low price quote on a Syneron VelaSmooth system with no obligation at all on your part. Just fill out the contact form below to get the process started.