Lumenis UltraPulse SurgiTouch CO2 Laser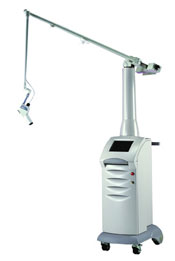 The Lumenis UltraPulse SurgiTouch CO2 system is an advanced surgical laser that is easy to use with a high level of automation. It can be used for everything from neurosurgery to gynecology to general surgery.
Some CO2 laser systems require more time to set up and prepare then the actual treatment itself, but that's not the case with the Lumenis UltraPulse SurgiTouch CO2 Laser. This system is fast and easy to set up and features a long list of automatic pre-set parameters. It will also guide you by suggesting a delivery device and then can send a highly focused beam at the ideal spot size for the procedure. There are a variety of options for delivery devices that make this one of the most versatile systems you can get. This model is also available as the Lumenis UltraPulse Encore. To get the lowest price quote on a Lumenis UltraPulse system, use the quick contact form below.
Detailed Product Description
The Lumenis UltraPulse SurgiTouch CO2 Laser has the following features:
Laser type: CO2
Wavelength: 10.6μm, infrared
Aiming Beam: 635nm, 5mW, adjustable intensity, on/off while lasing, blink on/off
Self-contained, closed cycle cooling system
10.4" color LCD display
Weight: 280 pounds
Dimensions: 14" x 20" x 77"
Electrical: 120V, 20A, 50 or 60 Hz, single phase
Lumenis UltraPulse SurgiTouch CO2 Laser System Applications:
UsedCosmetic.com is the best place online to get great deals on pre-owned surgical lasers. We take pride in offering only the best pre-owned equipment we can find. Every used surgical laser we sell comes with a 100% satisfaction guarantee and the peace of mind in knowing that is has passed our extensive inspection and reconditioning process.
To get pricing details for the Lumenis UltraPulse SurgiTouch CO2 laser, just fill out the contact form below. We are happy to answer any questions about this model or provide a low price quote, and there is never any obligation on your part.