Lumenis VersaPulse PowerSuite Laser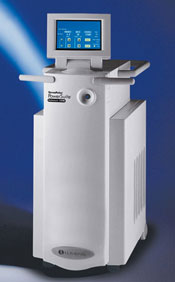 The Lumenis VersaPulse PowerSuite is an expandable and upgradable surgical laser system that can handle almost any kind of surgical procedure. It is available with a holmium laser or Nd:YAG laser, or a combination of both.
The VersaPulse system can be used for surgical procedures including urology, gastroenterology, orthopedics, ENT, thoracic, pulmonary, gynecology, podiatry and general surgery. No other surgical laser system is as versatile or powerful. The Lumenis VersaPulse PowerSuite is available in a variety of configurations, including 20 Watt, 60 Watt and 100 Watt with a single holmium wavelength, or an 80/100 Watt model with dual wavelengths for holmium and Nd:YAG. UsedCosmetic.com can help you determine the best model to fit your needs, and we can also get you the best price on a Lumenis VersaPulse system.
Detailed Product Description
The Lumenis VersaPulse PowerSuite Laser has the following features:
Laser type: holmium or Nd:YAG laser
Wavelength: 2.1 microns
Aiming Beam: 2.5 mW at 650 nm, three intensity settings,
Cooling self-contained water-to-air exchanger
Operation mode: Continuous Wave (CW), Pulser, SuperPulse
Weight: 185 pounds (20 Watt model), 340 pounds (60, 100 and 80/100 Watt models)
Dimensions: 19″ x 24″ x 45″ (20 Watt model), 18" x 36" x 39" (60, 100 and 80/100 Watt models)
Electrical: 120V, 50/60 Hz, 15A Single Phase 220V, 50/60 Hz, 10A Single Phase (20 Watt model), 230V, 50/60 Hz, 30A Single Phase (60, 100 and 80/100 Watt models)
Lumenis VersaPulse PowerSuite Laser System Applications:
The Lumenis VersaPulse PowerSuite is one of the best surgical laser system that you can buy, that doesn't mean you need to pay retail price. At UsedCosmetic.com, we sell refurbished VersaPulse systems for up to 60% off list price, and we only sell equipment that has been professionally reconditioned and inspected and we always provide a full satisfaction guarantee.
If you want a fast quote on a Lumenis AcuPulse CO2 Laser with no obligation, just fill out the contact form below. We'll respond back with the best price on this system.