Candela GentleMax Laser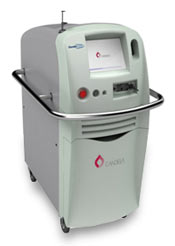 The Candela GentleMax laser system is actually a combination of two of Candela's most popular models, the GentleLASE and GentleYAG. This combination gives you one of the fastest and most versatile cosmetic laser systems that can handle a wide variety of applications.
With the combination of a 755 nm and 1064 nm treatments, the Candela GentleMax can do everything from hair removal to skin tightening to facial veins and much more. With a spot size of up to 18 mm and repetition rates of up to 2 Hz, it is one of the fastest cosmetic laser systems available. That means you can treat more patients with greater efficiency and more revenue to your business. And because this system is also upgradeable and expandable, it can adapt to your needs for many years to come. Ask us for a quote today on the lowest price for a Candela GentleMax laser machine.
Detailed Product Description
The Candela GentleMax Laser has the following features:
Eight spot size options from 1.5 mm to 18 mm
Lens-coupled optical fiber with handpiece
Dimensions: 45″ H x 26.5″ W x 38″ D
Weight: 342 pounds
Electrical: 230 V 50/60 Hz, single phase, 17.4A
Candela GentleMax Laser System Applications:
Skin rejuvenation
Skin tightening
Leg veins
Facial veins
Laser hair removal
Vascular pigment lesion
Wrinkle reduction
The Candela GentleMax is faster and more powerful than most cosmetic laser systems, so that puts it on the higher end of the price spectrum. But at UsedCosmetic.com, we have the lowest prices on used cosmetic laser systems, including great prices on refurbished Candela GentleMax machines.
We are happy to provide you with a low price quote on the Candela GentleMax system. Simply fill out the form below and we'll get back to you promptly. We can also answer any questions about this model or any other cosmetic laser system to help you find the perfect model for you.