Cutera Xeo Laser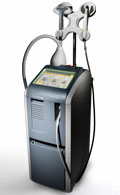 If you are looking for a cosmetic laser machine that is powerful, versatile and upgradeable, then the Cutera Xeo Laser is a model that you definitely need to consider. The Xeo can handle a variety of applications, including hair removal, skin tightening, skin rejuvenation and vascular therapy.
Cutera is one of the leading manufacturers of cosmetic laser machines and the Cutera Xeo is one of the company's most popular models. The Cutera Xeo is renowned for its easy-to-use features and has won wide acclaim from patients because of its record for safety and comfort. The Xeo is compatible with a number of treatment devices, including the Pearl, Pearl Fractional, Titan V and XL, LimeLight, ProWave 770 and AcuTip 500. That means the Cutera Xeo can handle just about any cosmetic laser application, and it is designed with an upgradeable platform so that you can get many years of service out of this pre-owned model.
Detailed Product Description
The Cutera Xeo Laser has the following features:
Real-time calibration
Continuous epidermal temperature regulation
Internal, self-contained cooling system
Dimensions: 12″ x 19″ x 35″
Weight: 135 pounds
Electrical: 115V/20A or 230V/20A
Cutera Xeo Laser System Applications:
Skin tightening
Skin rejuvenation
Hair removal
Leg veins
Facial veins
Vascular pigment lesion
UsedCosmetic.com can help you save big money on refurbished cosmetic laser systems. Every machine we sell is professionally reconditioned, tested and inspected to make sure it works as good as new. The only difference is that we can save you up to 60% or more off the price of a new Cutera Xeo laser machine. We also offer a 100% satisfaction guarantee so that you can buy with confidence.
If you are looking for the lowest price on a quality refurbished Cutera Xeo laser system, contact us today. We can also provide you with a variety of attachments, devices and lasers to be used with the Cutera Xeo.