Aesthera Isolaz Laser
The Aesthera Isolaz system is cleared by the FDA for treatment of pustular and comedonal acne, and in fact it is the only laser or light based system approved for that use. Besides acne treatment, this model can treat vascular and pigmented lesions, hair removal and more. And it does it all with deep pore cleansing that is pain free and fast.
Even though the Aesthera Corporation is fairly new in the field of cosmetic laser equipment, the company has been grabbing a bigger market share and also earned high marks from patients for the comfort and safety of their machines. With their proprietary Photopneumatic light-based technology, Aesthera machines allow for fast and pain free treatments that deliver unmatched results. The Aesthera Isolaz system is versatile enough to tackle a wide variety of aesthetic treatments and it can do it faster and safer. Contact us today if you want a low price quote on an Aesthera Isolaz laser system.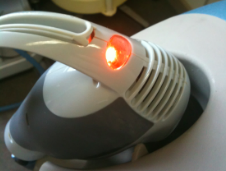 Detailed Product Description
The Aesthera Isolaz Laser has the following features:
Safety mechanism does not permit energy emission without complete skin contact
Swivel touch screen
iMP and iTM technology
70" operating radius
Dimensions: 13″ x 16.5″ x 15″
Weight: 45 pounds
Electrical: 115V/230V with single phase grounded outlet
Aesthera Isolaz Laser System Applications:
Skin rejuvenation
Light based skin rejuvenation
Hair removal
Acne treatments
Vascular lesions
Vascular pigment lesion
If the price of a new cosmetic treatment system is out of your reach, then you need to consider the benefits of buying refurbished cosmetic equipment. At UsedCosmetic.com, we can help you save up to 60% or more off the price of new cosmetic equipment, but you don't need to sacrifice performance or reliability because all of our pre-owned cosmetic laser equipment is professionally reconditioned to be as good as new.
UsedCosmetic.com offers the lowest prices on used cosmetic procedure equipment, including the Aesthera Isolaz system. If you are interested in this model, or any other cosmetic laser equipment, just fill out the quick quote form below and we'll respond with the lowest prices on used cosmetic laser machines.