Lumenis M22 Laser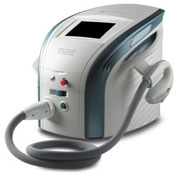 The Lumenis M22 is an all-in-one solution for light-based cosmetic skin treatments from hair removal to skin rejuvenation to vascular lesions. This system is portable, expandable and upgradeable.
Whether you are a small cosmetic clinic or one with locations all over the country, the Lumenis M22 can adapt to your specific needs. This multi-application system allows you to customize it with the features that are important to you. This IPL therapy machine can treat more than 30 conditions and its modular system allows you to start with a basic configuration and then add on as your business grows. At just 88 pounds, the M22 is easy to move between treatment rooms or even to different office locations. It offers a choice of six ExpertFilters for IPL treatments from 515 nm to 695 nm and there is also an Nd:YAG module for added versatility. This system is easy to install with no technician required, and it is also extraordinarily easy to operate with an intuitive touchscreen display and a variety of preset treatment options. Contact us today for the best price on a Lumenis M22 IPL therapy system.
Detailed Product Description
The Lumenis Lumenis M22Laser has the following features:
Laser type: IPL and Nd:YAG
Wavelength: 515-1200 nm
Spot size: 2 mm x 4 mm up to 8 mm x 15 mm
Continuous contact cooling
Dimensions: 17.32" x 19.88" x 18.5"
Weight: 88 pounds
Electrical: Universal power supply
Lumenis M22 System Applications:
Laser hair removal
Skin rejuvenation
Vascular lesions
Leg veins
Facial veins
A refurbished Lumenis M22 system can save you as much as 60% off the retail price of a new model, but that doesn't mean you have to give up anything with it comes to quality. We only sell pre-owned cosmetic laser equipment that meets our high standards and has been through our extensive reconditioning process. We are also one of the few companies to offer a 100% satisfaction guarantee.
If you have questions about the best configuration of the Lumenis M22 for your business, we are here to help. We can also provide a low price quote on a Lumenis M22 system. Simply fill out the form below for more information or pricing details. There is never any obligation on your part.