Lumenis IPL Quantum Laser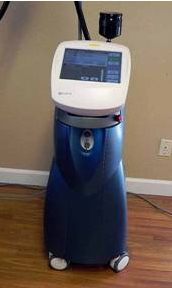 The Lumenis IPL Quantum laser is a complete solution for cosmetic skin treatments. This system is remarkably versatile and can be expanded and customized to meet your individual needs.
If versatility and the ability to upgrade your system are important, then the Lumenis IPL Quantum could be the perfect choice for you. This IPL therapy machine can handle just about any type of skin procedure and you can add on to this system as your needs change. The Lumenis IPL Quantum is available in a variety of configurations, including the Quantum SR, Quantum DL, Quantum HR or Quantum QS. The DL and QS platforms both include a Nd:YAG laser so that you can offer even more treatment procedures. Contact UsedCosmetic.com today for the best price on a used Lumenis IPL Quantum cosmetic laser system.
Detailed Product Description
The Lumenis IPL Quantum Laser has the following features:
Light source: Intense Pulsed Light (IPL)
Wavelength: 560 – 1,200 nm
Pulse duration: 5 – 60 ms
Spot size: 8 mm x 34 mm
Dimensions: 16" x 16" x 39"
Weight: 165 pounds
Electrical: 200- 240 VAC, 16A, 50/60 Hz, single dedicated line
Lumenis IPL Quantum System Applications:
Vascular lesions
Laser hair removal
Skin rejuvenation
Laser hair removal
Tattoo removal
Leg veins
Facial veins
UsedCosmetic.com works hard to save you money on pre-owned cosmetic laser machines with prices that are up to 60% off retail. Every system we sell is completely refurbished and tested to make sure it performs just like a new model. Plus we back our machines with a satisfaction guarantee.
If you need assistance in selecting which Lumenis Quantum model is right for you, UsedCosmetic.com is ready to provide some guidance. We have a full inventory of Lumenis systems to pick from and we have some of the lowest cosmetic laser prices anywhere. Contact us today for a low price quote on a Lumenis IPL Quantum system or if we can help answer any questions for you.