Palomar StarLux 500 Laser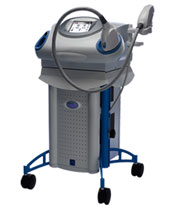 The Palomar StarLux 500 is a versatile, powerful and compact system that offers a full menu of aesthetic procedures using both laser and intense pulsed light technology.
The Palomar StarLux 500 might be the best value in cosmetic lasers. This laser and IPL system is smaller than many other comparable systems (it weighs less than 60 pounds), but it offers all the features of much larger and more expensive cosmetic lasers. With nearly a dozen different handpieces to pick from, this system is suitable for all kinds of procedures from hair removal to skin tightening to acne treatment and much more. It is well known as being one of the most patient friendly systems on the market because of its AccuSpectrum dual filter technology and advanced contact cooling system. Contact UsedCosmetic.com today for the lowest price on a refurbished Palomar StarLux 500 cosmetic laser system.
Detailed Product Description
The Palomar StarLux 500 Laser has the following features:
Laser type: Varies depending on handpiece used
Wavelength: 400 up to 2940 nm
Up to 3 Hz pulse rate
Weight: System – 58 pounds, Chiller – 35 pounds, Cart – 56 pounds
Electrical: 100-240 V, 50/60 Hz
Compatible with nearly a dozen StarLux handpieces, including the LuxR, LuxRs, LuxY, LuxYs, LuxMaxG, LuxV, Lux1440, Lux1540, Lux2940, Lux1064+ and LuxDeepIR
Palomar StarLux 500 System Applications:
Wrinkle reduction
Laser hair removal
Skin tightening
Acne treatment
Skin rejuvenation
Leg veins
Facial veins
Fractional ablative and non-ablative skin resurfacing
UsedCosmetic.com carries a complete inventory of Palomar laser equipment, as well as cosmetic lasers from manufacturers like Aesthera, Alma, Candela, CoolTouch, Lumenis and many more. Every used cosmetic laser system we sell comes with a 100% satisfaction guarantee and the security of knowing that it has passed our rigorous reconditioning and inspection process.
If you are looking for the best deal on a Palomar StarLux 500 system, simply fill out the contact form below and we'll respond quickly to your request. There is no obligation at all to request pricing details or more information about any model we sell.