Alma Accent 980 Laser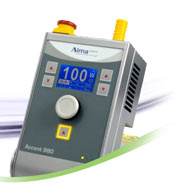 While traditional liposuction will always be popular, more and more patients are now opting for laser-assisted lipolysis, such as with the Alma Accent 980 laser system. This model produces incredible results with far less pain, downtime and bruising as compared to regular liposuction.
Many potential patients are turned off by the pain, bruising, downtime and expense of liposuction, but the Alma Accent 980 is the perfect choice for many of those people. This diode laser system can be used with only local anesthesia and it is much less invasive than traditional liposuction, not to mention much less expensive. And because buying a used Alma Accent 980 laser machine is extremely affordable, that means you can offer procedures that are much more affordable than traditional liposuction. When you add in the fact that this cosmetic laser system is completely portable, that makes it one of the most cost-effective machines you can buy and you'll get a strong return on your investment.
Detailed Product Description
The Alma Accent 980 Laser has the following features:
FDA approved for laser-assisted lipolysis
Up to 10 Watts of power
Wavelength: 980 nm
Dimensions: 4.5″ x 8″ x 4″
Weight: 10 pounds
Electrical: 115 AC or rechargeable battery
Alma Accent 980 Laser System Applications:
Skin tightening
Laser-assisted lipolysis
Body contouring
Besides offer the best prices on Alma Accent 980 laser equipment, UsedCosmetic.com also offers an unmatched 100% complete satisfaction guarantee that says you can return your purchase for a full refund if you are not happy. We have that much confidence in the cosmetic laser equipment we sell because we thoroughly and professionally recondition every piece and then test and inspect it before offering it for sale.
To get the lowest price quote on an Alma Accent 980 or any other cosmetic laser machine in our large inventory of cosmetic equipment, just fill out the form below. We'll respond quickly with a quote and more information about shipping and delivery.