Saratoga Technologies Bella Donna CO2 Fractional Laser System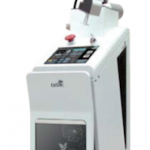 Compared to conventional scanners, the Bella Donna from Saratoga Technologies offers improved resurfacing functionality thanks to an ultra pulse mode, short pulse duration and high peak power. This helps reduce pain while providing the most effective treatments.
The highly advanced laser design also integrates fractional scanner and CO2 laser functions into one system, allowing for precision treatments and more versatile operations. With the Bella Donna laser system, patients can resume their daily activities quickly after treatments, making it a popular choice for busy patients.
The Saratoga Technologies Bella Donna CO2 Fractional laser system includes an adjustable scan size and beam density, making it easy to reduce overall treatments times and see more patients throughout the day. The versatile design and ergonomic style of the Bella Donna reduces treatment times, while also improving the recovery and rejuvenation period. The system delivers a variety of treatments for wrinkle and acne care, along with removal of sun damage and benign lesions.
Detailed Product Description:
Electrical requirements: 220x, single pulse.50/60hz
Density level: 1-23(x,y line): 9 dots-4489 dots
Operating modes: FX mode, ultra dream pulse, CW mode, Super dream pulse
Dimensions: 350 x 360 x 1200
Display: 8.4 inc touch screen color LCD
Beam shape: Square, Circle
Laser type: CO2
Wave length: 10,600nm
Mode structure: TEMoo
Laser power: 1-40W
Beam size: 5x5mm-20x20mm
Beam patterns: Array, Grid, Random
Beam spot size: 100mm
Weight: 45kg
Water cooling system
Saratoga Technologies Bella Donna Applications:
Acne treatment and scarring
Ablative
Benign Lesions (elevated & flat)
Skin resurfacing
Sun Damage
Vaginal atrophy & rejuvenation
Wrinkles
If you are interested in finding out more about the Saratoga Technologies Bella Donna laser system to your dermatology practice, medical spa or aesthetician office, UsedCosmetic.com will give you pricing information with zero obligation. Here at UsedCosmetic.com, we are the industry leader in used cosmetic laser system sales because we offer the lowest prices, in addition to a 100% customer satisfaction guarantee along with every single used cosmetic laser system we sell. To find out more about the used Saratoga Technologies Bella Donna laser machines in our inventory, simply fill out our contact form below, and one of our trusted representatives will get back with you quickly with all the answers to your questions about the Saratoga Technologies Bella Donna laser system.